Fring now available in iPhone's App Store
6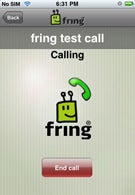 Finally,
Fring
, one of the best mobile IM clients, is officially available for iPhone, downloadable through the App Store. Fring is a multi-protocol instant messenger that can work with MSN, ICQ, Google Talk, Yahoo chat, AIM, Twitter, and Skype. It also has SIP protocol so you can configure your VoIP provider, with support for Sipnet, Gizmo, Free World DialUp, VoipCheap, VoipStunt, A1, VoipBuster and others.
As an instant messenger, it does a pretty decent job. Contacts are shown in a list, which can be searched and current chat sessions are marked in a different tab.
We were left with mixed feelings when we tested it for voice calls though. The Fring Test Call lagged and we were not able to hear what we recorded. When we called one person, the earpiece volume was too low, while when we called another person it was much better, usable indoors. The sound quality isn't perfect through Skype, but it doesn't cost anything, so we won't really complain.
Fring is now available for FREE, so go and download it, it is worth it! Make sure to post your opinion in the comments below!