Flipout to arrive in time for holidays according to Motorola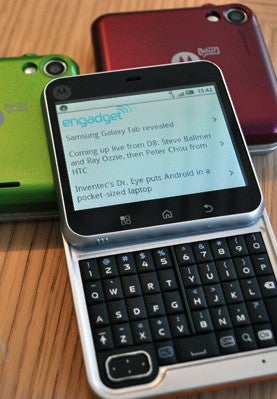 The odd-shaped Motorola Flipout device that is powered by Android and topped with the Motoblur user interface should arrive in the states just in time for the holiday season.
There is yet to be an announcement on what network the device will launch on, although previous rumors suggested that AT&T would be the Flipout's first stop. This wouldn't be the first odd-ball Android device that AT&T would welcome to its network, as they were also the only ones to bring us the Motorola Backflip.
There have been a few other devices that sported this square form factor with a swivel mechanism, but it would be the first to run Android. Pictures show that the phone has the Motoblur branding on the back, but that shouldn't be a surprise to see a mid-range Android phone from Motorola to feature that.
The device could launch anytime from now until December, leaving a huge window for us to guess at. Why Motorola is keeping mum on the carrier that will feature this phone is unknown. At least now we know that it is coming to the states, one way or another.
source:
Engadget Mobile