Flickr rolls out an Android app, realtime image sharing
1
Picture sharing giant Flickr has rolled out its first Android app along with a feature allowing users to share their photostreams in real time. So what does the app do?
First of all it lets you snap stills, then customize them using the 10 built-in filters and finally distribute them to your social network outlet of choice.
There are a couple of options in the camera part of the application including flash, ratio selection and the shutter focus. Viewing photos, of course, is as simple as flicking around. Flickr already has an iOS app.
"Browsing and navigating has been custom designed for Flickr to make use of maps, tags, and activity around your photos. You can stay up to date with the latest comments and activity on your photos and take advantage of gorgeous full screen browsing and slideshows," Flickr said.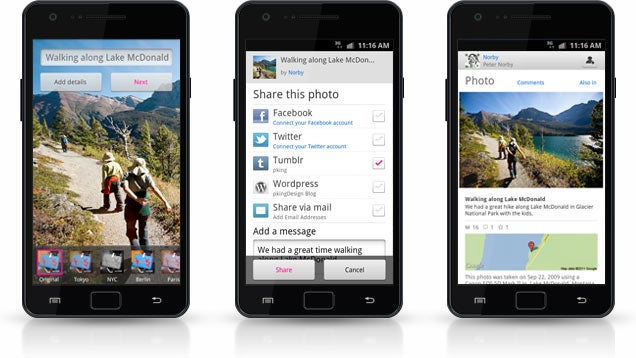 The other feature, not specific for Android this time, was PhotoSession allowing you to add a set of photos to a session and invite your friends to look together at it real-time. While looking, you can also draw and chat using the built-in tools. Sounds fun, doesn't it?