Flickr gives out free three month trial to its Pro service after Instagram furor
0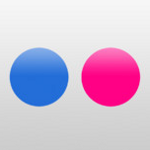 Instagram's posting of new Terms of Service
and the speculation (later denied) that Instagram was about to sell members' pictures to corporations and keep the cash, rival photo-sharing site Flickr is offering a
free trial
of its Pro service to its free members. The three-month trial is offered in an email titled "Merry Flickr," and explains the features available from Flickr Pro.
Clicking a banner on the Flickr web site or mobile app will allow users to start the three month trial that ends March 22nd 2013 when the user's account reverts automatically back to the free level. The member can continue to use the Pro service after the trial expires by paying
$7 per quarte
r, but that decision won't have to be made for nearly three months. Right now, those who accept Flickr's offer will be able to see their entire photo library instead of just the last 200 images and will be allowed to upload an unlimited number of pictures. Other benefits to Pro membership include the ability to download HD photos that you uploaded to the site as well as view unlimited HD videos.
While the change in Instagram's ToS originally made its users concerned that the site could sell member's pictures without compensation to the member, Flickr has a deal with stock photo firm Getty Images to pay members whose pictures are sold for commercial use.
source:
Electronista