First teaser for the Emoji Movie is here
4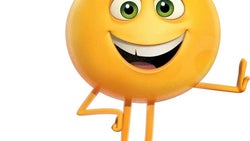 Emoji
have become an integral part of how we communicate through our phones. Ever since Apple first included them in iOS 5, they've been on the rise, generating more and more buzz every year.
So much, in fact, that Sony and Columbia Pictures are gearing up for the release of a movie, based on the life of the little glyphs. The title of the flick is
"The Emoji Movie"
and it will be hitting theaters around the globe on August 4, 2017.
Up until now, there were only bits of information about the movie here and there. What we know is that the main character, Gene, is a multi-expressional Emoji that sets out on a journey through the digital world of a smartphone to become a regular Emoji.
Now, nearly nine months after the movie was officially announced, we finally get the first teaser, featuring some odd Emoji humor.
Discover the secret [world] inside your [phone]. Only on your [phone]. Watch the new #EmojiMovie teaser trailer now! (best viewed on your phone) pic.twitter.com/8C062Br969

— The Emoji Movie (@EmojiMovie) December 20, 2016
While the teaser looks mildly entertaining, we'll be looking forward to August of next year to see the entire movie ourselves.
via
Engadget