First 'real' Windows Phone 8.1 screenshot leaks, shows upcoming Notification Center
56
Windows Phone 8.1 is said to be one of the biggest updates ever to arrive on Microsoft's mobile platform, with a huge list of rumored features, and now, we are seeing what's said to be the first and only 'real' Windows Phone 8.1 screenshot. The blurry image coming from TheVerge's Tom Warren Twitter account shows the settings for the upcoming 'Notification Center' in Windows Phone, a feature that is expected to mimic Android's notification dropdown and store all your unread notifications. It's an image previously posted by Windows-focused site WMPowerUser, but now it gets endorsed by Microsoft insider Warren as the 'only real' WP8.1 picture.
You can see 4 toggles that will allegedly show in this new 'Notification Center' - a GPS, brightness, Wi-Fi and Flight mode ones. You can also select notifications from which exact apps to appear in the new notifications hub, and we are seeing the option to turn on and off at least email and messaging. A murky new feature inside the notifications hub is 'banners' that you can choose to show or not. Moreover, we are seeing that receiving notifications in this central hub will not disable live tile notifications. Interestingly, rumor has it that notifications in the new version of Windows Phone will be actionable, so you could respond to them right in that 'Notification Center'.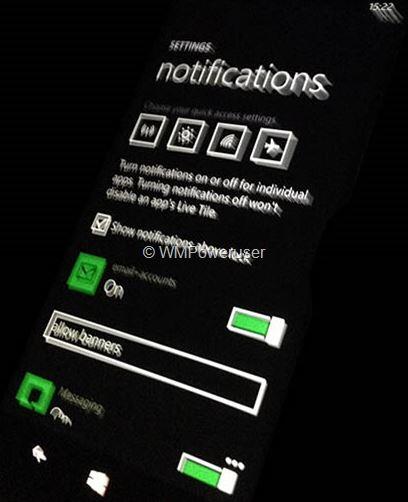 Given that this comes from a source with a good track record, we can be fairly certain in the authenticity of the screenshot. A Windows Phone 'Notification Center' has been a feature sorely missing on a platform where you have to hunt down missed notifications, so it's definitely welcome.
We've also heard rumors about a new
Siri-like voice assistant coming to Windows Phone 8.1, called 'Cortana'
. However, this and other features of the update (as well as the update itself) are not officially confirmed by Microsoft, and we only expect to see it announced in early April at the company's Build dev conference.
Even earlier, though, at the Mobile World Congress in Barcelona, rumor is that
Nokia will unveil the first devices to run on WP8.1
, and one of them is said to come with a 1440 x 2560-pixel (QHD) display, an interesting rumor given that Windows Phone currently supports 1080p screens at maximum.
Recommended Stories