All apps in the Windows Phone Store show they will work with Windows Phone 8.1
10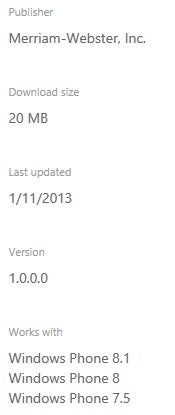 There should be no doubt now that Microsoft plans to bill the big "Windows Phone Blue" update as Windows Phone 8.1. If you take a browse through the Windows Phone Store and look at the selection of apps, you will see that they all note to work with "Windows Phone 8.1."
We took a look at several apps in the Store, and they are all listed the same. The change apparently happened en masse overnight. That development bodes well for those that are waiting impatiently for the official announcement and demonstration of Windows Phone 8.1 because it means there should not be any compatibility issues for apps running on the updated OS.
For those that are still catching up, you can see our
comprehensive summary of everything we know about the Windows Phone 8.1 update
. A lot of information leaked before the SDK was sent out, but once
Microsoft sent out "confidential" invitations
to developers to evaluate the Window Phone update, the floodgates basically opened.
We are just a little over two weeks away from the Microsoft //Build/ developer conference where it is expected that all will be revealed.
sources:
WindowsPhoneApps.es
via
WMPoweruser