Windows Phone Cortana voice assistant shown in brief new video
15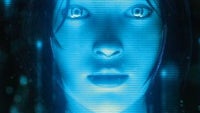 The general rumor mill has known for a while that Microsoft is working on a voice assistant similar to Google Now and Siri for its Windows Phone platform, and the recent news has said it is codenamed Cortana after the computer AI in the Halo game series. Now, there is a brief new video that allegedly shows off the Windows Phone voice assistant in action.
Unfortunately, the video is pretty terrible quality. Whoever shot it didn't get the entire device screen in the video, and even worse is that the person couldn't even turn off the Netsky track that is playing, which makes it difficult to hear what the device is saying although it appears to be giving some sort of navigation instructions. There are bits that do make it look and sound like Windows Phone though. The dings that alert the beginning and end of a voice action match the sounds that you would get in Windows Phone, the typography also looks like the Segoe font that is the main hallmark of the Metro UI.
In the end, there isn't a lot to even confirm that this is real; and, if it is real there isn't much to show off what to expect from Cortana. The rumors have said that it will be
released in April
with Windows Phone 8.1, and the voice will be Jen Taylor who voiced Cortana in the video games. As far as functionality, it has been said that the voice assistant will be able to answer questions you'd expect like search queries, appointments, navigation, etc., and offer
voice unlock
, but we don't know much beyond that.