First flexible mobile devices to enter mass production in 2018, says display tech supplier
5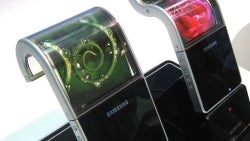 Flexible and foldable devices could be the next significant evolution in smartphone design, According to Kolon Industries, a company playing a big role in developing this technology, three to five tech companies will be mass-producing flexible devices by 2018. They could prove popular by 2019 and grab a chunky 20% share on the Korean smartphone market.
You may haven't heard of Kolon Industries, but this is the world's only company with the means to mass-produce the colorless polyimide needed for the flexible film that will replace displays' rigid glass sheets. It supplies its products to companies such as Samsung and LG, which are already well-established in display manufacturing. So Kolon certainly has to be in the know!
The company suggests that the first foldable devices, which could possibly be released next year, will have a bend radius of 5 millimeters as opposed to market speculations of 1 millimeter. The latter is ideal, though, as it allows both sides of the display panel to almost touch, as if they are completely folded. Due to safety issues, tech companies are likely to unveil the bend radius of 5 millimeters first, then gradually unveil devices with less.
The flexible colorless polyimide produced by Kolon is expected to be used for most foldable devices in the near future. The Korean tech firm succeeded in the development of the technology this August and intends to mass-produce films for around 100 million units of foldable devices in 2018.
source:
Korea Herald
via
Phandroid