First alleged Samsung Galaxy Note III images surface: pay homage to Mr. Blurrycam
69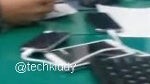 The Samsung Galaxy Note III has so far been the best kept secret of all upcoming smartphones. This is not a surprise - Samsung has obviously enacted draconian secrecy measures that are paying off.
However, after a Galaxy Note III drawing showing a Xenon flash on the back and a 5.7-inch display, we now have first blurry and unclear photos of the device. Are they real? The source claims they come straight from Samsung's manufacturing lines, but to us they look so blurry, we can basically see nothing of value.
Still, for those who are extremely curious about the Note III (and we know about a few of you who are passionate about the device), they might be of some value.
So far, the Note III is said to come with a slightly larger 5.7-inch full HD display, an Exnoys 5 Octa or Snapdragon 800 chip (depending on market), 3GB of RAM and a 13-megapixel Xenon flash camera. Additionally, it is expected to support 4G LTE-A connectivity. Not a bad bundle, is it?
source:
TechKiddy