Feeling like your accessories are just too much plastic? Seeking something modern?
10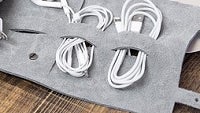 So many accessories nowadays have a common theme, cheap quality, with a lot of same-same design cues. It is often said there is little originality left in the world. Our mobile accessories are much the same way. One plastic bumper case looks like any other. Our cables are a tangled mess, and everything looks the same.
It should come as no surprise to you that there is a market out there for unique designs of accessories to our everyday gadgets. With such designer accents though, quite often there is a higher price tag attached to these items.
As luck would have it, there is a web-site that puts many of these items on sale for limited periods of time, with new sales starting every morning in the US. TouchofModern is one of those sites. It handles more than just technology gadgets, but the gadgets themselves are interesting. To browse the catalog, one only need provide an email address.