Facebook Messenger intros zippy Instant Articles preview within the Android chat app, iOS to follow
1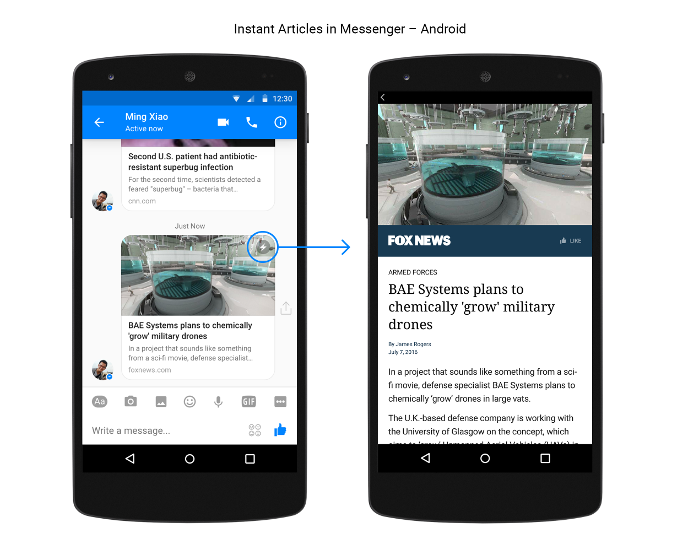 Most Silicon Valley giant agree that chat might be the future of information consumption, and are fighting tooth and nail for viable space in the instant messaging arena. Sorry, everyone, but Facebook is ploughing ahead as if there is no tomorrow, and we aren't even talking about the
$19 billion acquisition
of the most popular IM software WhatsApp.
This story is about the venerable Facebook Messenger, which is actually the world's second-largest chat app, with more than 900 million users. What makes Messenger so popular is not only the fact that it comes with your Facebook account, but also that it's arguably the most feature-rich, polished and easy to use out there. Apart from the staples like emoji packs, in-chat apps, rich link and media previews, AI chat bots and many more, now Facebook Messenger will be increasing its stickiness even further.
Starting with the Android app, and rolling later to iOS, Messenger will soon be offering Facebook's Instant Articles option directly in the chat thread. Instant Articles is the social network's answer to Google Accelerated Mobile Pages Project, which lets publishers design their news and media outlets to load up to ten times faster - ads, trackers and rich media notwithstanding.
You might have noticed Instant Articles as ones that load immediately directly in your News feed on Facebook, without having to open in a browser tab first, as Facebook itself hosts their content. Well, that same concept is now extended to Messenger - when someone sends you a link to an Instant Article (and a vast number of popular publishers are already taking part in the program), it will appear with a lightning bolt in the top right corner. Tap on the link, and the article will unfold directly into the chat thread to read immediately, just like the shared video clips now start playing right in Messenger. Neat, but we don't know if the
opt-in encryption that is coming to Messenger
will allow the Instant Article thingy just yet.