FTC takes on 'Rachel from card services' robocalls with $25 000 blocking tech awards
1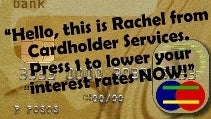 The FTC gets about 200, 000 complaints of unauthorized robocalls a month, and that's from those who bother. Despite the successful introduction of a do-not-call list, a lot of fluff still slips through the cracks, like the infamous "Rachel from card services" robocalls we all know and hate.
To deal with the illegal calling, the FTC ran a blocking software contest recently, and is now awarding two $25,000 prizes to programmers who came up with novel ideas to sift through illegal sales calls before they reach your earpiece.
Prizes went to Aaron Foss and Serdar Danis, computer and software engineers who came up with ways to prescreen and weed out robocalls that originate from a computer, or a blacklisted number. Two Google employees were also recognized with a non-cash award for inventing a way to identify caller ID-spoofs that mask the real source of the call. Rachel from card services will certainly be miffed about the developments.