Excellent note-taking app Bear receives sketching feature in latest update
1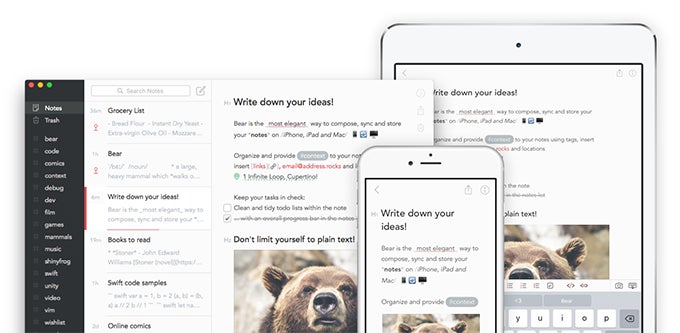 Bear is one of the best note-taking apps for iOS, and it just got a little bit better in its latest update.
What makes Bear different than most other note taking applications is the ability to easily link notes to create a whole body of work, and you can also easily use hashtags to organize your thoughts. Everything is neatly stored in plain text, so it's easily transferable between different mediums.
Bear is also a flexible app: as much as it is about basic notes and to-do lists, it's also well fit for coders or more serious prose writers looking to craft their next thing. The app is compatible with external keyboards, so you can do some more serious typing without having to carry your Macbook and right below you'd see a demo of how this works.
The major change in update 1.2 for Bear on iOS comes in the form of the ability to draw on your touchscreen. There's a separate, new screen for sketching that sports its own set of tools, similar to that of Apple's own Notes app,
MacRumors
reports. You get a marker tool and a pencil tool with three sizes and different color options to chose from.
The update also introduces support for VoiceOver—Apple's accessibility solution for people with visual impairment—which reads out everything on the screen for you.
Apart from this, Bear's UI also enjoys a few minor tweaks in version 1.2, with some of the icons being refreshed to match the app's different themes.
Bear is an excellent note-taking tool for iOS and Mac that has a free version, as well as two subscription models—monthly ($1.49) and annual ($14.99)—for the full package. You can download the app by following the link below.
Download Bear: