Even more Sony Xperia Z3 pictures leak, compare it with the Galaxy Note
37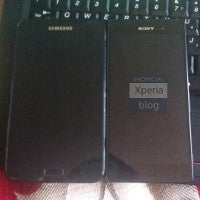 On Friday
, a bunch of never-seen-before Sony Xperia Z3 photos found their way to the world wide web, and it was a matter of hours until more followed. Much alike to the first photo shoot, we again have the alleged Z3, shot from even more angles. What's more, the leaker has deemed the original Samsung Galaxy Note a fitting device for a side-by-side comparison, so there's that, too.
As for the photos themselves, we again have a chance to peer into the future, or so the author would have us believe, and so far it seems clear that Sony will be approaching the design of its front-facing speakers differently. The result, as some of you will probably agree, appears to be less refined visually -- in comparison, the speakers on the current flagship, the Z2, are almost impossible to make out. That said, we've got to say that the Z2's implementation could definitely be louder, so here's hoping the new design helps with that.
Speaking of design, the sides of this alleged Z3 are also different from what we have available right now -- they're far more aggressively rounded, and that should, hopefully, make the next Sony flagship a bit easier to grip. More as we get it, folks!