Dual-SIM capable Samsung Champ Duos E2652 is selling for 5,080 INR ($115) in India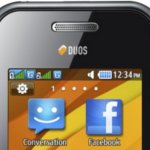 emerging markets of India
, it would only be naturally fitting to find it being extremely affordable.
And with that, we now find the extremely inexpensive
Samsung Champ Duos E2652
heading to India for the easy to swallow price tag of only
5,080 INR
– which converts to wallet savings for of about
$115
. Considering that one of its main attractions is none other being a
dual-SIM capable device
, you can instantly pop in two SIM cards and basically have two numbers tied to it. Of course, this would prove to be valuable for some people who don't necessarily want to truck along two separate devices.
Some of the features of the entry-level Samsung Champ Duos E2652 include a 2.6" QVGA touchscreen,
1.3
-megapixel camera, microSD card slot, and a simplistic interface that utilizes Facebook and Twitter widgets. The wait won't be long with this one since it's positioned to be launched starting
April 9th
.
source:
Unwired View