Wi-Fi certification shows that Samsung might update Galaxy Note 7 Fan Edition to Android 9 Pie
7
Hey Samsung Galaxy Note 7 Fan Edition owners, how bowled over would you be if your phone was updated to Android 9 Pie? Well, it could happen.
According to SamMobile
, seven Galaxy handsets have recently received new Wi-Fi certifications from the U.S. based Wi-Fi Alliance. The certifications were new, dated November 12, 2018, and showed all seven phones running on Android 9.0.
The seven models listed by the Wi-Fi Alliance included these handsets:
Samsung Galaxy Note 7 Fan Edition
The Galaxy Note 7 Fan Edition (FE) was born out of the two recalls
that took the Galaxy Note 7 off the market in 2016 following several explosions. The phone, made up of unused and recycled Galaxy Note 7 parts, featured mostly the same specs used on the Galaxy Note 7, albeit with the Snapdragon 821 replacing the Snapdragon 820 chipset. A 3200mAh battery replaced the defective 3500mAh batteries used on the recalled units, and the Fan Edition model of the Galaxy Note 7 is equipped with the Galaxy S8 UI, giving it access to Bixby.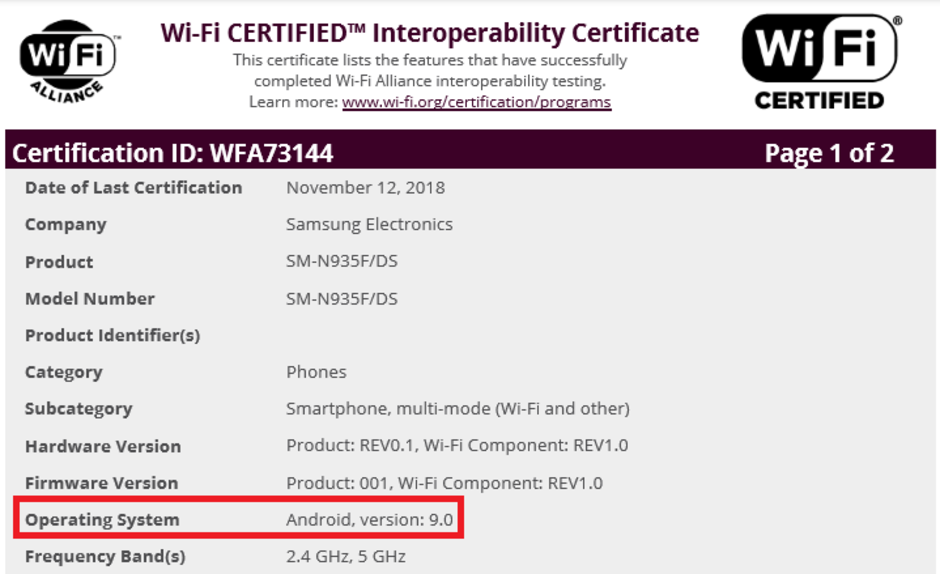 Wi-Fi certification for the Samsung Galaxy Note 7 FE powered by Android 9
The Galaxy Note 7 Fan Edition exists because the Galaxy Note 7 was heading toward record sales before the two recalls. Despite the explosions, many owners refused to comply with Samsung's offer to replace the units with any Samsung phone. This occurred even while Samsung was remotely shutting down the ability of the battery on the Galaxy Note 7 to recharge fully.