Disney announces new mobile games, updates existing titles
5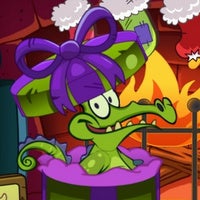 Disney's entry into the realm of mobile games has been met with mostly positive reviews. Where's my Water, for example, is among the most addictive puzzle games to ever land at Google Play or the Apple Appstore and has been downloaded well over 10 million times to date. The trend is now likely to continue with the several new titles that Disney just announced, along with updates for some of its existing hits.
Right on time for the holidays, mobile games will get to try
Where's my Holiday
, which is a Christmas-themed blend between Where's my Water and Where's my Perry. The twist to this new title is that Both Swampy and Perry will have to solve puzzles together in the same levels. Where's my Holiday is expected to launch on December 20.
Next up we have
Nemo's Reef
. As you can probably guess, this game will feature characters from Disney and Pixar's aquatic adventure Finding Nemo. The game's goal will be to build an underwater reef, which implies that the game will require strategic thinking.
Monsters Inc. Run
is the third game that Disney will release soon. Yup, we're dealing with a movie-based title once again. The game comes from the developers that brought us Mega Run and its mechanics are expected to be pretty similar.
In addition, Disney is updating several of its games with new content. Where's my Perry will get an expansion with 40 new levels, available as an in-app purchase, Wreck-it Ralph will receive a new racing mini game called Turbo Time, while Temple Run: Brave will offer King Fergus as one of the playable characters. Last but not least, Captain America is soon to be added as a character in the action-packed game Avengers Initiative.
And that's what Disney has in stock for us this holiday season! Is anyone excited about any of these new games?