Digg finally arrives on Android complete with good-looking Digg Reader
2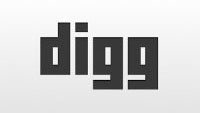 It has been just over two months since Digg launched Digg Reader and the companion
iOS app
, and we have been waiting patiently for the Android app (patiently, because honestly we kind of forgot it was coming). Well, Digg has a good sense of humor about it all, starting the blog post about the Android app launch by quoting readers who have been asking, "Where's my freaking Android app, you lazy idiots!?"
The Android app has arrived. This is the first time Digg has had an Android app, and of course it comes complete with the Digg Reader functionality. The app is quite good-looking - simple, but well designed. One thing to get used to is that Digg has limited the app to portrait view only, in order to have it scale properly from smartphones all the way to 10-inch tablets.
The app doesn't just include Digg Reader, but does also include Digg's Top Stories. Any story can be saved to Instapaper, Pocket or Readability, or shared to any of the apps that are in your Android share menu. You can also have diggs auto-shared to Facebook if you'd like. Additionally, you can sort stories by popularity (based on social sharing), as well as search for, add new feeds, and organize feeds in folders.
The app is well designed and definitely works well. If you've been using the web-based Digg Reader and have been waiting for the Android companion, the wait was not in vain.