Deal alert – get the Nokia Lumia 520 for $39 from Amazon
27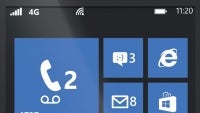 Aah, the Nokia Lumia 520 - the low-cost smartphone that keeps on giving! What are we talking about? Okay, here's the deal. The Lumia 520 was, and still is one of the best bang-for-the-money smartphones out there. It has a 4-inch display with a 480p resolution that's perfectly pleasing to look at, and an operating system - Windows Phone 8.1 - that runs excellent on its modest set of specs.
Well, the dual-core Qualcomm Snapdragon S4 processor and 512MB RAM make short work of Windows Phone 8.1's Live Tiles... and not much else, frankly. But keep in mind this is a $39 phone that we're talking about here.
Yes, $39 - that's the price at which the Lumia 520 is selling on Amazon today. This is $60 less than the 520's already lowly $99 regular price. So if you are in the USA and want to get a great deal today, head over to Amazon and treat yourself to a cheap and trusty Lumia 520. It's waiting for you in the source link below.
source:
Amazon