Deal: Grab a 55-inch 4K Samsung Smart TV for $460 and get a 23.6-inch Asus monitor as a free gift!
2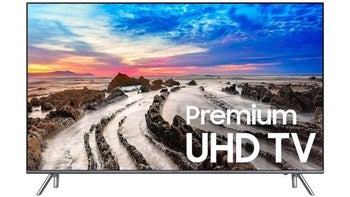 | Product | Item Condition | Location | Price | Deal ends in |
| --- | --- | --- | --- | --- |
| Samsung 55" 4K LED LCD Smart TV + Asus 23.6" LCD monitor | Refurbished | Newegg Flash | $460 | 4 days, 13 hours (from time of writing) |
Newegg Flash has a killer deal for those of you looking to buy a 4K TV. A Samsung-branded 55-inch Smart TV in a refurbished condition can now be grabbed for as low as $460 at the web store.
For comparison, Amazon is selling the same refurbished units for $600, meaning that this deal saves you a cool $140 or about 23%. However, the folks at Newegg have decided to throw in a
free
refurbished 23.6-inch Asus monitor (valued by them at $100) to further sweeten the pot.
The 55-inch LED panel on this 2017 TV boasts a 4K resolution of 3840p x 2160p. Other notable features include HDR 10, a design with slim bezels, a smart remote controller with voice navigation, and, of course, smart features like a full web browser, access to Samsung Smart Hub & apps, and so on.
Meanwhile, the Asus monitor has FHD resolution of 1920 x 1080p, a 1 ms Response Time, and 70°/160° viewing angles. A 90-day warranty is also included on board for both products.
If this deal interests you, feel free to follow the above link to Newegg Flash. The sale expires in 4 days and 13 hours from the time this article was posted.