Cricket to launch $55 Muve Music plan with unlimited service and music
2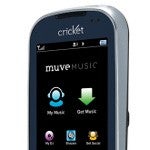 Cricket Wireless announced its new
Muve Music
plan, which is set to bring unlimited music to the masses along with unlimited talk, text and data for
$55 a month
, according to a press release by the company. The plan will be available on the upcoming
Samsung Suede SCH-r710
, which is essentially a feature phone running Sammy's TouchWiz and sporting a dedicated music key for one touch access. The handset will also sport a 3-inch touch screen and a 3-megapixel camera.
The unlimited music offer is backed byleading music companies Universal, Warner, Sony and EMI, which is animpressive achievement by Cricket. Songs will be downloaded at acompression of 32 kilobits per second. This, however, will not impactquality as much as you would expecton an MP3 file, because the efficient Dolby PCM codec is used. Theaggressive compression will be used to squeeze in up to 3,000 songson the limited space of 1GB on the phone. The songs themselves willnot be DRMed, but rather they will be stored on the 1GB encryptedSanDisk TrustedFlash partition to prevent piracy. Additional 4and 8 gigabyteTrustedFlash-enabled memorycards will be offered by Cricket to extend storage capacity.
The music service will initially come only on the Samsung Suede and will be available exclusively through the phone. Later however, the service will expand to 6 to 8 more handsets, including smartphones. "Our goal is to integrate this across our portfolio in 2011," Jeff Toig, VP of product marketing at Cricket said.
The service could prove popular among younger users (yes, ringtones are free as well) and Cricket claims that it is exactly what its subscribers want, but in the current smartphone times we are left wondering if a dumbphone launching with unlimited music will have that much of an appeal. In any case, the service sounds promising and, as far as we know, it really is the first to go with unlimited music. Muve Music and the Suede will be launched at
CES on January 6th
, which is just weeks apart, so the wait will not be long.
source:
Cricket
via
PC Magazine