Costco shaves a little bit more off the BlackBerry PlayBook - priced at $274.99
2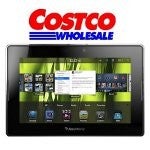 For those hungry enough to score on the
deal happening right now
with the
BlackBerry PlayBook
, they're probably singing with adulation knowing that they've plopped considerably less than early adopters – especially now that it's found at
$299.99 almost everywhere
.
Well, they might be kicking themselves in the rear end if they happen to glance over at what
Costco
has recently done, much like the rest. Unlike its rivals, the wholesale discount retailer is bringing the price of the QNX powered tablet to a better
$274.99
, which is pretty sweet considering that you'll be saving a good $25 in the process for the 16GB version. Of course, the 32GB and 64GB capacities are priced at $374.99 and $474.99 respectively.
free
goody with the purchase – like a
3-in-1 charger
. So yeah, this deal might be good enough to entice people who are still hesitant about picking one up. Then again, it makes us wonder how long it'll be before we see another considerable price drop.
via
BlackBerry Cool