Chinese supplier Pegatron has received orders to manufacture 4.7-inch iPhone 6 for September announcement
30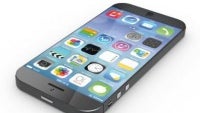 Taiwan's Industrial and CommercialTimes spilled the beans that Apple supplier Pegatron has received 15%of orders to manufacture and assemble Apple's upcoming 4.7-inchiPhone 6. The next iPhone's announcement is scheduled for September.
The supplier will produce 50 million iPhones by the end of thisyear, including the iPhone 6, iPhone 5c, and iPhone 4S. In addition to Pegatron, long-timeApple manufacturing partner Foxconn has been tasked with iPhone 6production as well. It has already recruited workers at its newfactory in Kunshan, China to meet demand. Production is scheduled tostart in the second quarter of this year, perhaps in July.
Once again, the report mentions that a4.7-inch iPhone 6 will be announced in September, while aphablet-sized 5.5-inch iPhone will follow later. Also, the purportediPhone Air name isn't being mentioned anywhere.
For more information on Apple's nextflagship, take a look at our iPhone 6 rumor round-up. We'll beupdating it as new bits of information leak.
via MacRumors