Cetus looking Samsung SGH-i916 spotted hanging out with an iPhone in Canada
0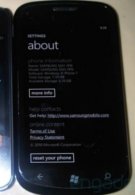 Call it the other twin that was taken away quickly after birth, but apparently a
Samsung Cetus
like smartphone was recently captured hanging out with an iPhone 4 over in Canada.
The Samsung SGH-i916 might be a slight digit off from being an identical twin to the Cetus, but it's probably a slightly modified handset that's looking to make its presence over on Rogers up in Canada. Naturally, it was only fitting to place the handset snugly next to an iPhone 4 to better provide us all a good size comparison, however, there are also additional details known about this device.
From quickly gazing upon the image, the i916 looks to share the same AMOLED display that's also featured on the Cetus, while offering 8GB of internal storage. Aside from that, there really isn't much else that can be inferred from the image, but it's clearly looking like an identical twin to the Cetus.
via
Engadget