CX70 Emoty - first handset with sensor-controlled emotional communication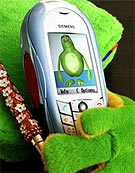 The CX70 Emoty is the first handset with fully-functional sensor-controlled emotional communication. As you can image, the device is primarily aimed at young consumers and the device is all about customization and emotions. The mobile handset to will be equipped with a special cover including a bridgeless keypad with ten emotional categories and integrated stroke, press and shake sensors, with which the users' emotions can be conveyed to animated 3D-characters, sharing emotional MMS with friends.
By using the integrated stroke, press and shake sensors intuitively, the animated character is controlled to express the users' moods. The sensors identify the intensity of the users' moods and in turn, the Emoty character responds at the same level. Together with a text, the conveyed emotion can then be sent as an animation via MMS to all MMS capable mobile phones to be shared with others. Variants of the pre-installed characters with further characters, including Garfield, will be downloadable from the Siemens WAP portal.
The CX70 Emoty also features 3D game technology, exchangeable faceplates, VGA camera with video capture, Push-to-Talk technology and 65k color display. According to Siemens, the phone will be available in Europe and Asia Q4 of 2004.
Siemens CX70 Emoty full specification