CTIA 2005 Live coverage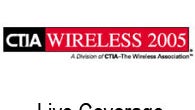 March 14 was the start of this year's largest wireless industry show in the US. CTIA 2005 took place in New Orleans, LA. Like last year, PhoneArena.com was there and we'll try to bring you the best coverage possible.
Unlike other years, there were not that many new phones and devices announced specially for the show. Most of the new product announcements came from 3GSM World Congress and CEBIT. Nevertheless, we still very excited to be on the show and be able to bring to the entire scoop about the latest advanced in the mobile technology.