BlackBerry Pearl 9100 looks to be bound for T-Mobile
This article contains unofficial information.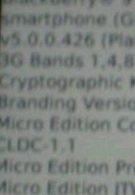 The original BlackBerry Pearl made its debut on T-Mobile's lineup – it would only be fitting if the latest incarnation of the slim candybar smartphone partner up with them again. The BlackBerry Pearl 9100 made its rounds early in the month with reports about being the first RIM handset to pack
802.11n Wi-Fi
. Now there are some clear indications that it'll join T-Mobile after a screenshot of the handset showing that it supports 3G bands 1, 4, and 8 – which ultimately points to the AWS band that T-Mobile is known for. With that in mind, it's going to be a safe bet to see it happen. Although it may seem right now that they will join forces with T-Mobile at first, we'd expect this device to branch out to other carriers – much like what we witnessed with the Pearl's quick rise to fame. Now the only questions that remain unanswered are the release date and pricing – let's hope it's sooner than later.
RIM BlackBerry Pearl 9100 Preliminary Specifications
source:
CrackBerry
&
@CellGuru