BlackBerry CEO Chen says parts of the company were sicker than he thought when he took over
99+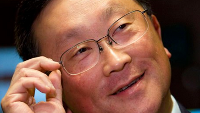 BlackBerry CEO John Chen spoke with Walt Mossberg and Ina Fried at the Code Conference on Wednesday, and discussed how parts of BlackBerry were sicker than he thought they would be when he first took over last November. The company still has many problems, according to the executive, but is not close to being laid to rest.
Chen talked about security and how BlackBerry is looking at specialized businesses where it might be able to sell its wares, such as financial services and healthcare. There was an interesting moment when the executive was asked about building Android powered handsets, and he replied that he couldn't talk about that yet. At the same time, Chen said that he wasn't giving up on the handset business. "
I am not by any shape of the imagination… giving up yet
," he said.
Talking with Mossberg and Fried, Chen said that he is trying to get developers over to the BlackBerry 10 platform. Taking his words from Charlie Sheen's Bud Fox from the epic movie
Wall Street
, the BlackBerry CEO said, "
We're working on some of that stuff
."
"We're going to have to tie ourself in some way — and I don't know what the innovative way is yet — to preserve the BlackBerry value add of security, productivity and collaboration."-John Chen, BlackBerry CEO
All in all, it was an interesting chat with the man who is trying to turn around BlackBerry. He succeeded before with Sybase, so he is a proven turnaround specialist. You check out some of the conversation by clicking on the video below.
source:
Recode
via
Crackberry