Best smartphones you can buy on AT&T (2016)
13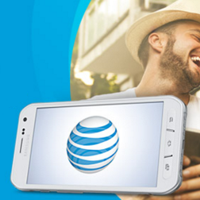 In January this year, AT&T became the last major US carrier to ditch 2-year contracts, now offering two options if you want to buy a new smartphone: pay the full price upfront, or pay in monthly installments over various periods of time (on AT&T Next).
Being America's second largest mobile carrier (serving around 130 million customers), AT&T has a wide range of handsets that you can choose from. At the moment, there are over 30 smartphones in the carrier's line-up - from cheap, low-end models, to expensive devices that pack the latest and greatest features.
Naturally, only some of those 30 devices can be seen as
the best
, and, if that's what you're looking for, we've got you covered. The list that you'll discover below is presenting what - we think - are the best smartphones that AT&T is currently selling. Links to reviews and to AT&T's website (for purchasing the handsets) are included.
Note: This article was updated on December 4.
Best mid-size (normal) smartphones on AT&T
Like it or not, the Galaxy S7 is praised by many for being one of this year's hottest smartphones. Released by AT&T in March, when all other major carriers also started selling it, the Galaxy S7 (32 GB version only) is available on AT&T for $694.99 outright, or starting at $23.17 per month. The S7 can be seen as an improved, faster, and refined Galaxy S6 (which itself is a great device), offering the benefits of water-resistance and expandable memory in a similar stylish package. The handset runs Android Marshmallow with a streamlined TouchWiz UI (the best we've seen from Samsung thus far), and will soon be updated to Android 7 Nougat.
Until 2011, AT&T was the only US carrier to sell iPhones, thanks to an exclusivity agreement signed with Apple. Now, however, you can buy iPhones from all relevant carriers, so AT&T lost its privileged status in the hearts of Apple fans. But this obviously doesn't mean that iPhones are no longer appreciated at AT&T. When it comes to mid-size handsets, the iPhone 7 is, unsurprisingly, AT&T's best option for iOS users. This is Apple's first smartphone to feature dust- and water-resistance, and also the first
not
to feature a 3.5mm headset jack (people are still debating whether this is innovation, or a nuisance that could have been avoided). Powered by Apple's A10 Fusion chipset, the iPhone 7 is certainly the best 4.7-inch handset Apple has made to date. All three iPhone 7 storage options are available from AT&T: 32 GB ($649 outright, or from $21.67 per month), 128 GB ($749 outright, or from $25.00 per month), and 256 GB ($849 outright, or from $28.34 per month).
Best large smartphones on AT&T
The Galaxy S7 edge offers all the high-end stuff that the regular S7 has, but it's bigger and fancier - thanks to its 5.5-inch Quad HD dual-curve screen. The curved display doesn't enable any essential features, though it certainly adds to the premium design of the phone. Moreover, battery life on the S7 edge is slightly better than on the regular S7. AT&T is selling the Samsung Galaxy S7 edge starting at $26.50 per month, or for $794.99 outright.
Sporting a 5.7-inch Quad HD screen and a secondary ticker display above it, the LG V20 is literally the largest smartphone on our list. The V20 has a sturdy metal construction, and is packed with attractive features like a fast Snapdragon 820 processor, 4 GB of RAM, a 16 MP dual rear camera, and 64 GB of expandable storage space. Moreover, this is the world's first handset to run Android 7 Nougat out of the box. AT&T is currently selling the LG V20 for $27.67 per month, or $829.99 outright.


Being the larger brother of the iPhone 7, the iPhone 7 Plus offers the same premium build and features, with the advantage of sporting a bigger, 5.5-inch screen. The 7 Plus is also better at taking photos and video (thanks to its dual rear camera with 2x optical zoom), while its battery lasts longer. Available in 32 GB, 128 GB, and 256 GB variants, the iPhone 7 Plus costs $100 more than the regular iPhone 7.
No images
Best rugged smartphone on AT&T
The Samsung Galaxy S7 Active may not be as pretty as the Galaxy S7 or S7 edge, but it comes with two important advantages: it's shock-proof (surviving drops from up to 4 feet), and provides impressive battery life thanks to a built-in 4000 mAh cell. In addition to that, the S7 Active is obviously dust- and water-resistant, and has pretty much all the features of the regular Galaxy S7. The smartphone currently costs $794.99 (or $26.50 per month).
Best cheap smartphone on AT&T
Far from being a powerhouse, the LG K10 is a pretty nice option for AT&T customers on a budget. The LTE-ready handset is sold for $149.99 outright, or $5 per month with a 30-month installment agreement, and is seen as a good device in its category. Highlight features include a 5.3-inch 720p display, 5 MP front-facing camera with its own LED flash, quad-core Snapdragon 210 processor, 1.5 GB of RAM, and 16 GB of expandable storage space.