Best Buy selling refurbished Samsung Gear S2 units for as little as $141
60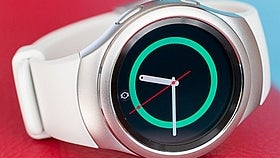 Best Buy is now selling refurbished Samsung Gear S2 units at notable discounts. If you're on the market for a smartwatch that stands out from the crowd but cannot afford to pay for a brand new Gear S2, then this should be an offer to consider.
Both the white and the black elastomer versions of the Gear S2 are available at just $140.99, almost half than what a brand new Samsung Gear S2 costs.
If the sportsy look of the elomaster bands doesn't suit your style, then you might be interested in the Gear S2 Classic, a smartwatch that's equipped with leather bands but maintains the stainless silver body. Best Buy is selling refurbished Gear S2 Classic units at $171.99. Free shipping is included and you can also opt to pick up your unit from a physical store.
These products have been refurbished by Geek Squad and come with warranty. Note that the units are in like-new condition, although the retailer says that minor scratches might be present.
If you can live with the idea of a refurbished product, the Samsung Gear S2 is actually a tempting smartwatch at this price. The Tizen-based wrist piece comes with specifications such as a beautiful 1.2-inch Super AMOLED display running at 360 by 360 pixels, an Exynos 3250 Dual chipset with a 1.0GHz dual-core processor, 512MB of RAM, 4GB of integrated storage space, and a 250mAh battery. The most notable feature of the Gear S2 is its rotating bezel, one that allows users to easily navigate the menus and the apps.
If this seems a good deal to you, make sure to read our detailed
Samsung Gear S2 review
before placing a purchase.