Samsung Gear S2 Review
41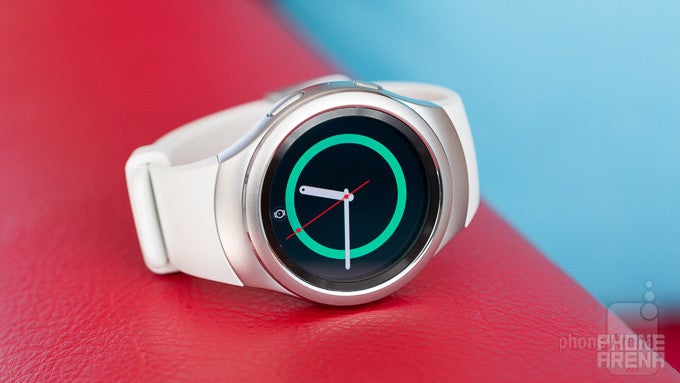 Update

: You can now read our Gear S3 Frontier review!

Introduction
Samsung is no stranger to making wearable gadgets. About two years ago, it brought us the
Galaxy Gear
, which was the company's first attempt at making a modern smartwatch. Then came the
Gear 2
, which filled many of the gaps its predecessor missed, all while adding extras like a camera and a speaker. And for the Gear S, Samsung threw in a larger screen along with a SIM card slot for cellular connectivity.
The Samsung Gear S2, however, is shaping up like the first smartwatch by Samsung that holds potential to make a splash on the market -- the first that may appeal to a broad audience of geeks and non-geeks. And we've been excited to review it ever since it got announced -- we've been looking forward to test-driving its unique rotating bezel and to give its circular user interface a try.
All in all, we're not sure if the Samsung Gear S2 is the best smartwatch ever, but it is most likely the best smartwatch that Samsung has made so far. Is that really the case, and can it justify its $350 starting price? Time to pair it with our
Galaxy S6
smartphone and find out!
In the box:
Samsung Gear S2 smartwatch
A small and a large wristband pair
Magnetic charging cradle
Wall charger with non-detachable MicroUSB cable (Output: 5V, 0.7A)
Quick Start Guide
Design
This is what a modern smartwatch for non-geeks should look and feel like. The Gear S2 is pleasant to look at, and the rotating bezel is convenient to use.
To say that the Gear S2 is designed well would be an understatement. Both visually and functionally, it is one of the best smartwatches we've reviewed so far -- it is a modern, premium timepiece with a minimalist, gender-neutral appearance. It is neither too aggressive, nor too boring, nor too geeky with its looks, and we feel like that's a recipe for success when it comes to smartwatches. Having that in mind, it comes as no surprise that the Gear S2 draws attention and becomes a conversation topic when noticed by people around us.
The casing of the Gear S2 is made of 316L stainless steel, which is a material with excellent corrosion resistance. It has been treated to a matte finish, while the beveled edges of the bezel and the buttons have been polished to a shine. Mind you, the metal is tough, but will get damaged if not treated with care. Bumps against hard, rough surfaces will most likely result in scratches on its surface. It is nice knowing that the bezel has a raised lip, which serves as a bumper protecting the screen.
Speaking of the bezel, it is one of the Gear S2's stand-out features. By rotating it, one can navigate through the smartwatch's menus, scroll down emails, and interact with apps, having to touch the display only to confirm a selection. The solution is elegant, convenient, and superior to anything similar that we've seen on a smartwatch to date, not to mention that you get to scroll down that email without your thumb obscuring the display. Better yet, every rotation of the bezel produces a satisfying click, giving you that pleasant tactile feedback response.
There are two physical buttons found on the Gear S2, both placed on its right side. The upper takes us a step back, and the bottom one takes us "home" by bringing us back to the watch face. A second press of the latter key displays the list of apps. All in all, the buttons work fine, although bit more travel and tactile response would have been welcome. We didn't use them very often, to be honest. Instead, we mostly used a swipe down gesture on the touchscreen to go a step back.
Out of the box, the Samsung Gear S2 is equipped with an L-size wristband. L stands for "large", as you can probably guess, and it allows the smartwatch to fit on the largest of wrists. Also included is an S-size wristband, which is of length suitable for people with smaller wrists. The material is rubbery, flexible, and soft to the touch. Now would be a good time to mention that the Gear S2 uses proprietary wristbands. In other words, you can't put a standard, 20-millimeter wristband on the wearable, although you will be able to purchase alternative bands with funky designs from Samsung.
The Samsung Gear S2 is shielded from the elements, carrying an IP68 rating. In plain words, it is resistant to dust and water ingress. You can't go scuba-diving with it, but you shouldn't worry about sweat or tap water damaging its internals.
Display
A high-resolution AMOLED display produces clear visuals and glows brightly outdoors. But tough luck if its 1.2-inch diameter is too small for you.
The Samsung Gear S2 sports a Super AMOLED touchscreen display with a round shape. It measures 1.2 inches (30.2 millimeters) in diameter, meaning that it is smaller than the screens of many competitors. The LG Watch Urbane, for example, has a 1.3-inch screen, and the smaller of the two Moto 360 (2015) models has a 1.56-inch one. On one hand, the Gear S2\s display doesn't feel small by any means and we're content with its dimensions -- the UI does not feel cramped, and we can operate its touchscreen with relative ease. But on the other, some buttons and UI elements do feel kind of smallish, and we're sure some folks would have loved having a bit more screen space or the option to choose a bigger model.
Size aside, the display on the Gear S2 has a resolution of 360 x 360 pixels, producing 302 ppi for crisp and clear images. Even text of small size is easy to read, not only due to the pixel density of the display, but also because it is usually displayed in white letters against a dark background for optimum contrast.
One of the advantages of AMOLED screens over LCD ones revolves around power efficiency. Basically, pixels that display black consume no power. Because of that, you may choose to enable the Gear S2's always-on display feature without worrying about battery drain. We did and found it to be pretty neat as the time is shown constantly on the screen. On a related note, using a watchface that has a bright, colorful background instead of a black one has a noticeable impact on battery life.
As the Gear S2 has an ambient light sensor, it can adjust its brightness depending on the environment. We noticed that its screen automatically gets brighter under bright light to improve visibility. Another effective way of adjusting its brightness is manually, from a pull-down screen or the settings menu. Overall, the Gear S2 is usable outdoors as it glows brightly enough, although we really wish that the glass cover protecting the display was less reflective.
A weakness we had to deal with was that the Gear S2's display becomes less responsive when moist -- during an intense exercise, for example. Sure, you still have the convenient rotating bezel at your disposal, but that is of little use when the touchscreen fails to register your taps or switches between menus on its own.
Recommended Stories