Best Buy claims BlackBerry PlayBook sales have far exceeded its expectations
13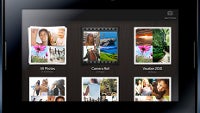 It's not very often that we hear something explicitly positive of
RIM's PlayBook
, but here comes a good news at last - Best Buy says the PlayBook's sales have far exceeded its expectations.
A statement issued by the retailer says that "Best Buy has had great success selling BlackBerry smart phones in North America, so our sales expectations for the BlackBerry PlayBook were very high". It goes on, claiming that "to date, we have far exceeded those expectations and we're finding that customers are even more interested in purchasing once they've tested the PlayBook in the store".
As you can see, Best Buy didn't bother to release any exact figures to back up these claims - either about its "very high expectations" or about the actual sales of the device, but nevertheless this is a good news for
the embattled manufacturer
.
via:
All Things Digital
Recommended Stories