Augmented reality enhances GPS navigation
3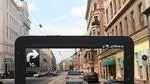 Here is an innovative way to make GPS navigation software stand out – by implementing
augmented reality
into it! That is exactly what the folks at ROUTE 66 have done by blending together turn by turn navigation with AR technology.
The Android-exclusive app, simply named
ROUTE 66 Maps + Navigation
, works by picking up video from the camera of a dash-mounted Android smartphone or tablet and enhancing it using some AR magic. Having the Follow Me option enabled renders a 3D car model over the video feed from the camera, creating the illusion of having a car driving right in front of you. Following the virtual driver will bring you to your desired destination and will even indicate turns by using turn signals along the way. The software promises premium mapping functionality by offering more than 100 detailed TomTom maps.
ROUTE 66 Maps + Navigation is expected "Soon on Android Market," according to its official website, and will feature a 30-day trial period upon release. Using the app will be possible on any device, running Android 2.1 or higher.
Augmented reality is supposed to make the driving experience more enjoyable and a bit more fun, but wouldn't it simply keep the driver's eyes off the road? Check out the video demonstration and let us know what you think in the comments.
source:
Route 66
via
Gizmodo