Asus PadFone X mini spotted at the FCC with AT&T frequencies on board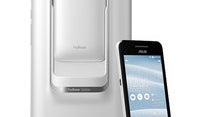 Earlier this year, Asus announced the
PadFone X
, and now, it looks like a similar model is on the way. The Asus PadFone X mini, as it will be called, just cleared the FCC, meaning that its official unveiling must be nearing.
For those not familiar with concept, Asus's PadFone devices consist of a smartphone and a tablet dock. When docked, the device becomes a full-fledged tablet with cellular connectivity – the phone itself provides the processing power and storage while the dock holds extra battery juice, a speaker, and, of course, a much bigger touchscreen.
The Asus PadFone X mini, in particular, is listed under the model name T00S. It can operate on the 850/1900MHz GSM frequencies, as well as on the LTE bands 2, 4, 5, and 17. Technically, this makes it compatible with AT&T's cellular network, and given the fact that the carrier launched the PadFone X, we won't be surprised to see the mini variant launch on the AT&T network as well. Also, it is stated in the FCC papers that the phone's battery has a capacity of 7.8Wh at 3.8V, which equals 2050mAh. Further specs, however, remain a mystery.
On September 3, Asus will be holding a press event at which the PadFone X mini will most likely be announced. That is when we'll learn whether AT&T is really interested in offering the device.
Note: Photo above is of an Asus PadFone mini, not a PadFone X mini.