Asus FonePad 7 hands on
1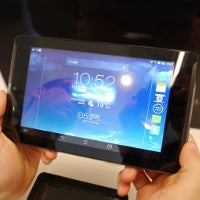 Asus introduced not one or two, but a whole bunch of new mobile devices at IFA. Among them is a brand new FonePad 7, a 7-inch tablet with phone functionality that is very affordable. The first FonePad was introduced almost a year ago, and now the new one comes with upgraded internals.
The FonePad 7 is not as compact as newer devices with slimmer bezels, but it's not large either. Its most notable feature are the conveniently placed front facing stereo speakers. The tablet uses on-screen buttons, and felt fairly snappy to use. It's design is all glossy plastic that stains easily and is not particularly exciting.
The camera protrudes slightly on the back and on the side there is a SIM card slot. Asus' Jonney Shih introduced the FonePad 7 as a phablet, but it's really more of a combination of both, a tablet with phone functionality.
The FonePad 7 has all the marks of an affordable device - it sports a 7-inch display with a resoultion of 1280 x 800 pixels and runs on an Intel Z2560 1.6GHz chip.
Good news is Android here is in its almost latest version,
4.2
Jelly Bean. The camera is a 5-megapixel rear one and there's a 1.2MP front shooter. The battery is capable of running for 10 hours on a single charge, and that's awesome.
The device will also sport cellular connectivity and come in 8GB, 16GB and 32GB models. It's 340 grams heavy and 10.5mm thick. What do you think, would this be a good offer if you were on a tight budget?