Asus Eee Pad MeMO 7-inch tablet could be bundled with MeMic, a Bluetooth handset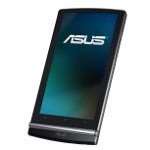 The 7-inch Asus Eee Pad MeMO tablet broke coverat CES in January with some details about its insides, but up untilnow we could only guess its full and complete specifications. Well,not any more – the MeMO will run Honeycomb and willbe powered by a 1.2GHz Snapdragon MSM8260 CPU capable of processing 1080pfull HD video. Nothing surprising, the slate will also come with HSPA+ 3G radiosincluding support for the 850MHz and 1,900MHz bands for the NorthAmerican market. A 5-megapixel snapper on the back and a1.2-megapixel camera up front will manage photography and video onthe MeMO. All the photo and video capabilities of the tablet wouldn'tbe revealed in full glory on a 7-inch screen and that seems to be thereason for including a micro HDMI port for transferring mediato an HD TV.
But even more interestingly, the tabletwill be offered in an optional bundle with a Bluetooth handset,so you could actually make use of the tablet as your main cell phone.Not the most practical solution, but it certainly sounds interesting.The handset, named MeMic, will feature a translucent LCD screen andwill also function as a remote control and a gateway for wirelessstreaming of music. While you might have noticed that the MeMO's 3Gbands are compatible with those of carriers like AT&T, there is still no information on whether it will be offered on U.S. carriers. The tablet is also coming with a stylus, making it a direct competitor to the recently unveiled HTC Flyer. In any case, you'llhave to wait for the actual product to hit shelves – it is expectedonly in June.
source: Asus