Asphalt 6 Adrenaline HD for the BlackBerry PlayBook is priced at $0.99 for a limited time
2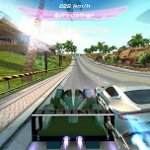 Not too long ago, last month to be exact,
iOS users were treated to a free download
of the popular game
Asphalt 6 Adrenaline
, which is pretty nice all around since it normally carries a cost. Well,
BlackBerry PlayBook
owners have a special deal where they can pick up the game for very cheap.
Specifically, Asphalt 6 Adrenaline HD for the PlayBook is now priced at an easy to swallow price tag of
$0.99
for a limited time. Even though it still carries a cost, as opposed to the free one that iOS users were treated to last month, it's still not bad of a deal – especially when you take into account its usual price of $6.99.
Naturally, seeing that it's tagged with the "HD" branding with its name, it's enabled to work swimmingly with the PlayBook's display and hardware. Therefore, you'll be treated to a visually intensive game that's sure to showcase the processing power of the compact tablet.
Who knows how long the game will be priced at $0.99, but you shouldn't second-guess at making the purchase since it'll provide hours of extensive game play on the go. Trust us, you won't be disappointed by it – well, that's unless they make the game free very soon.
source:
RIM
via
Berry Review