Asphalt 6: Adrenaline now free for a limited time on the App Store
7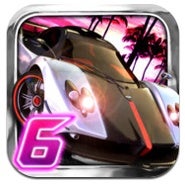 Asphalt 6: Adrenaline
is one of the hottest racing titles on the App Store with a solid 5 star rating from thousands of users and now Gameloft is offering it for free. Actually it's also the most downloaded racing game in Apple's app catalog. It's now free for both the iPhone and the iPad. Do you really need more incentives to rush to the App Store?
Just in case you do, we have to say that Asphalt 6 comes with enhanced visuals on the iPhone 4S with smooth real-time rendering. It allows you to race not only computer opponents but also up to 6 of your friends in multiplayer mode. It offers 42 cars and bikes from Ferrari, Lamborghini, Aston Martin, Ducati and others.
Asphalt 6 takes you to the streets of LA, Tokyo, the Bahamas and more. Finally, you can also tune those luxury vehicles to their best.