Apple's A5X processor for the next iPhone in testing, new iPod touch to get a major overhaul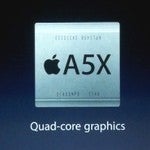 Apple is reportedly using an iPhone 4/4S housing to test the performance of its new A5X processor, which is destined for its upcoming iPhone. The chip is said to be a scaled down version of the graphics-intense unit in the new iPad, as the iPhone doesn't of course need to have such a
pixel
-cruncher in it, as its display will be smaller.
That's in line with
the reporting from last month that the A5X won't come to this year's iPhone as it is
. The amount of RAM will get increased to 1GB in the new iPhone as well, though. The internal codename for the prototype phone with the new iPhone A5X chip is N96, but it is too early to tell if it will stick around like that.
Cupertino is also prepping
a refresh of its oft-forgotten third iOS device, the iPod touch
, for this year as well. A file inside one of the internal iOS
5.1
builds reveals that the iPod touch will jump from version 4, 1 to being referred as 5, 1 internally, signaling a major overhaul.