iPad's A5X chip may not come to the next iPhone
37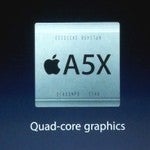 Unless you live under a rock, you probably know that
the new iPad was unveiled on Wednesday
. And one of the things that makes it better than its predecessor is the new A5X chip, which has two main processing cores and four additional cores that handle graphics processing.
Now lets go back in history for a minute. Remember how the A4 chip debuted under the hood of the
first-gen iPad
? The
iPhone 4
eventually launched with an A4 processor too. Then the dual-core A5 was first used in the
iPad 2
only to make it to the
iPhone 4S
afterwards. But according to analysts, Apple might not follow suit for the next iPhone iteration. Or in other words,
the A5X might not be used for the next iPhone
.
Analysts claim that the A5X chip is simply not power efficient enough to be used in an iPhone. Besides, its otherwise very powerful GPU is something that an iPhone would not have much use for. So instead of just fitting an underclocked A5X inside of the next iPhone, it might simply decide to use a different chip, which will be likely built by using 28nm manufacturing process.
When you think about it, the claim makes sense as the extra processing power of the A5X is there to handle the high resolution of
the new iPad
's display. And given that Apple had to use a
bigger battery in the latest iPad
, we have little doubt that the new chip is a lot more power hungry than its predecessors. The iPhone, however, has a high-resolution display already, and technically, Apple does not need to increase its resolution even further. Therefore, the company may decide to focus on power efficiency instead of boosting the smartphone's graphics performance.
So, has the A6 processor been reserved for the next iPhone generation? Or is Apple going to use the A5X anyway? Only time will tell.