Apple updates iWork apps with better Office compatibility and new collaborative features
2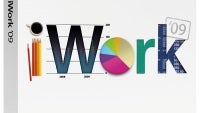 Apple brought a good chunk of updatesto its cross-platform (iOS, Mac, iCloid) iWork productivity suite.For starters, the apps behave better with Microsoft's fresh newcomerto Apple camp, Office for iPad. Pages, Numbers, and Keynote featurebetter exporting to Office's XML formats, while their iCloud-basedvariants can now open password-protected documents from Word, Excel,and PowerPoint. Also, the Mac and iOS versions now preserve customnumber formats in charts imported from Office docs.
Outside of the MS Office welcomingtreats, the iWork apps offer easier document sharing and newcollaboration tools. Their iCloud incarnations can show a list ofstuff shared by other users in the document manager, and lets usersadd passwords to online documents. As for collaboration options,Apple has added a list of users working inside a particular document,as well as visualizing of their actions - such as moving cursors,selections, shapes, and images around.
Additionally, the iCloud apps havereceived Retina display support, while Keynote for Mac and iOS hasbeen outfitted with new build animations and transitions.
Pages, Keynote, and Numbers areavailable in the Apple App Store for $9.99 each.
source: Apple via MacWorld