Apple iPhone 5s estimated to be the most popular phone in the world in Q1 2014
57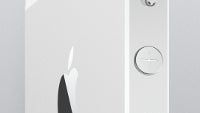 The
Apple iPhone 5s
was the world's most popular smartphone in the first quarter of the year, according to the latest report by ABI Research. Apple's flagship darling has been dominating the ranks in the past few years, closely followed by Samsung's Galaxy devices. The
Galaxy S4
was the runner-up to the iPhone 5s in Q1 2014.
What's interesting is that we're seeing to fairly old devices make it in the top 5: the 2012
Samsung Galaxy S III
at the third place, and the equally old
iPhone 4s
at number five.
"The presence of the Samsung Galaxy S3 i9300 16GB and iPhone 4s 8GB in the top five is testament to the enduring appeal of these models and the vendors strong brand, enabling a long and profitable lifecycle, that other vendors can only dream of,"
said Nick Spencer, ABI's director for mobile devices.
Another interesting trend is the appearance of Xiaomi, a company often called 'the Apple of China', with its Redmi smartphone, a great bang-for-the-buck phone selling for just $130. Sony and LG also made it in the top 20, while Huawei dropped out.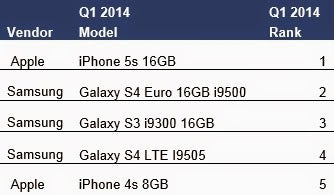 source:
ABI Research