Consumer Reports' first ratings on mobile peer-to-peer payment services has Apple Pay Cash on top
11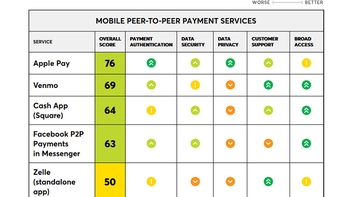 Consumer Reports
is the non-profit organization that rates goods and services based on unbiased testing. Whenever a new technology surfaces,
Consumer Reports
eventually gets around to testing it. Case in point, the organization's first ever rankings of peer-to-peer mobile payment services which has just been released. These allow you to send or receive money to and from another person who uses the same service. According to research firm eMarketer, 79 million Americans are expected to use a peer-to-peer mobile payment service this year, up 24% from last year's figure.
The P2P services tested by Consumer Reports include Venmo, Square's Cash App, Facebook P2P Payments in Messenger, and Zelle. CR determined that all five were good enough to use, but it did have one name at the top of the list, Apple Pay Cash. The reason? Apple Pay Cash scored excellent or very good in important categories like Payment Authentication, Data Support and Data Privacy. With a score of 76, Apple Pay Cash beat out Venmo for the top spot; the latter was given a score of 69 by Consumer Reports.
The Zelle app, with a score of 50, was on the bottom of the rankings. Despite scoring very high in customer service, Consumer Reports is concerned that you will be needing to talk to that team after the app ranked poorly for data security and privacy.
It is interesting to note that Apple's score of 76 still leaves it below the 81 to 100 "excellent" range. That means that all of these firms have work to do to improve their peer-to-peer mobile payment systems.