App World is here! RIM's application store is now live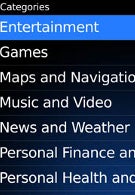 As expected, RIM's official application store for BlackBerry devices,
App World
, is now live and ready for downloading on certain 'Berry devices. So far, we have successfully downloaded a free app for Bloomberg News onto a BlackBerry Storm. App World is broken down into 13 separate categories ranging from Maps and Navigation to Sports and Recreation. 234 applications, by quick count, are initially available with some apps free of charge and a minimum of $2.99 for paid downloads. To have App World downloaded on your RIM device, from your BlackBerry browser (Storm owners need to make sure their browser is set on 'BlackBerry') go to BlackBerry.com/appworld. Happy hunting!
via:
PC World