Analyst: 70% chance of Verizon branded iPhone next year
This article contains unofficial information.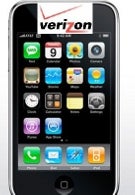 Stop us if you've heard this one before, but according to noted Wall Street Analyst Gene Munster, once AT&T's exclusivity deal expires with Apple next year, a new, CDMA version of the touchscreen device will be coming to Verizon. Munster, the senior research analyst at Piper Jaffray, says that there is a 70% chance of this happening in 2010. The Analyst also notes that talks about keeping the device an AT&T exclusive in the U.S. are continuing. Still, with Apple's tradition of making an iPhone-based announcement about a new feature in the middle of the year, he predicts that the new feature to be announced in the middle of next year will be a Verizon branded version of the handset. The analyst's report went out to clients yesterday and noted that much of the future growth in sales of the iPhone will be driven by the App Store. "We have seen a shift in the reason why consumers buy an iPhone.Initially, it was the touch screen and easy access to the Internet"said Munster. "Today, apps are cited as one of the top three reasonsconsumers buy an iPhone." With the AT&T network often cited as the major problem for iPhone owners, the other two reasons are not location, location.
Apple iPhone 3GS Specifications
|
Review
source:
CNET