Amazon Android Appstore Christmas deals include $5 credit and Angry Birds Star Wars II
4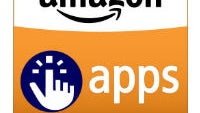 If you don't have an Amazon Kindle Fire tablet, you may not have even considered getting the Amazon Appstore, but it can be a pretty solid addition to your Android device. The number one reason is that Amazon offers either a free app or a free game every day. And, the company has just announced the Christmas week deals, which include Angry Birds Star Wars II for Christmas Day.
Unless you're on the west coast of the US, you've missed the free app for the 23rd which was Draw a Stickman: EPIC. Tomorrow, Christmas Eve, brings Piano Master Christmas Special for free, then Angry Birds Star Wars II on Christmas, Where's my Perry? for Boxing Day, and the week finishes off with Quell Memento on the 27th, and Doodle Farm on the 28th.
But, that's not all. Amazon is offering extra free app packs on Christmas and Boxing Day (which may or may not be of any interest to you given the titles we saw included). Office Suite Pro is getting a huge price drop on the 26th from $14.99 all the way down to just 99 cents. A number of games from Electronic Arts, Sega of America, and Gameloft are also on sale for up to 65% off.
Even better, if you download any game or app from now until the 28th, Amazon will give you a $5 credit for the Appstore. So, you can pick up one of the free apps, get a $5 credit, and use that on Office Suite Pro and a couple games. Not bad at all. The only thing that you need is the newest version of the Amazon Appstore (v7.5) and you're good to go.