Alcatel OneTouch Pop S family brings 4G LTE to the masses in sizes from small to phablet: Pop S3, S7 and S9
1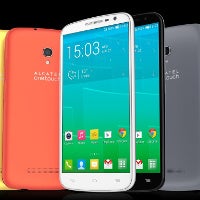 Alcatel has just unveiled its new OneTouch Pop S family of smartphones that bring 4G LTE support in an extremely affordable package. Up until now, devices with 4G LTE carried a price premium that could be pretty sizable, and with three new devices in different sizes Alcatel addresses that.
The new smartphones are the 4" Alcatel OneTouch Pop S3, the 5" Pop S7 and the 6" Pop S9. 4G connectivity with support for category 4 LTE networks is their common feature, and all else is different, so take a look.
The Pop S3 is a 4-inch smartphone with a resolution of 480 x 800 pixels (WVGA), and it features a 1.2GHz quad-core chip. It's got a 5-megapixel rear camera and no front shooter, and it's powered by a 2000mAh battery. It also comes in five vibrant color options.
The Pop S7 is a 5" phone with an IPS display and a resolution of 540 x 960 pixels (qHD), and it sports a 1.3GHz quad-core chip. It's got a 5MP rear camera and a VGA front shooter, plus it runs on a 3000mAh battery.
The Pop S9 is a phablet sporting a gigantic 6" 720 x 1280-pixel HD IPS display, and it runs on a 1.2GHz quad-core chip. It's got an 8-megapixel rear camera with LED flash and a 2-megapixel front shooter. The back cover seals a 3400mAh juicer.
The S3 and S9 come with Android 4.4 KitKat on board, while the S7 features 4.3 Jelly Bean. Sadly, Alcatel has not yet provided a release date or price for these new colorful Alcatel OneTouch Pop S series, but our guess is that they should be out and about in Q2 2013 with an affordable price tag.

ALCATEL ONETOUCH POP S range offers the best first LTE experience

POP S range makes the best first LTE experience available to all at smart price
Build your own device using interchangeable battery covers and a complete set of accessories available in bright colours
Large and vibrant display with outstanding battery performance ensures enjoyable multimedia streaming on the go
The company's ambition to offer LTE to the widest audience in 2014

Mobile World Congress, Barcelona, 24 February 2014 – ALCATEL ONETOUCH today unveiled the POP S3, POP S7 and POP S9 to offer super-colourful LTE smartphones at the smart price at Mobile World Congress 2014.

True to the POP series' DNA of 'easy to choose, easy to use', the POP S offers the best first LTE smartphone experience for the mass market. With screen sizes ranging from 4" (POP S3) to 6" (POP S9), users simply need to pick their size and personalise with colourful battery covers and accessories. The range packs user-focused features that are ideal for streaming over LTE, One Finger Zoom means easy navigation while browsing and great battery performance keeps the experience going. You can also share any content from your smartphone through Miracast Wi-Fi Display.

Dan Dery, Chief Marketing Officer for ALCATEL ONETOUCH, said: "The POP S range makes an LTE smartphone fun, easy and available to all. An ideal first LTE smartphone, the POP S range offers a handset suited to every need, whether that's streaming, browsing or creating content on the go. Just as picking a T-shirt, you simply choose your size and your favourite colour."

POP S3: compact, colourful and customisable
While its 4" screen makes the POP S3 the compact option in the range, it packs impressive features like Quad Core processing for smooth streaming. The full screen camera with video stabilisation allows you to record outstanding Full HD videos with unparalleled sharpness.
Designed with customisation in mind, the POP S3 comes with five interchangeable colourful battery covers in the box. Colour choices include Flash Yellow, Fresh Turquoise, Hot Pink, Red and Slate, making it easy to match the POP S3 to your mood or style in seconds.

POP S7: great display and battery performance to enjoy smooth browsing experience
Its 5" IPS display makes the POP S7 ideal for a big screen LTE browsing experience and offers a 170 degree viewing angle with bright and vivid images. Its huge 3000mAh battery supports long browsing time and LTE streaming.

POP S9: a multimedia hub with large display and enduring power
The POP S9 is the best way to enjoy content from the Cloud. Its 6" IPS display makes HD content even more life-like. The LTE and Quad Core 1.2 processor ensure ultra fast connection for music, HD videos and games. The narrow boarder with full lamination is designed to create a compact and responsive device. Compatibility with the Sidekick Bluetooth handset also means non-stop browsing and streaming, even when answering a voice call.

Both the POP S7 and the POP S9 are available in five vibrant colours: Mellow Yellow, Soft Blue, Urban Haze, Cream Tangerine and Cream Pink. With the POP S3, users can mix it up to suit their style and mood with the colourful battery covers.

Complete accessory ecosystem for added customisation
Accessories are available in a wide range of colours to add another dimension to personalisation. Each member of the POP S range offers optional accessories, Sight Flip Case with integrated LED matrix for alerts; BoomBand for vibration and LED alerts; and AeroFlip cover with integrated transparent panel for access to key features. The POP S9 also offers an optional Stand Flip case for hands-free viewing.