Acer's 4.8" and 7" tablets were spotted at CES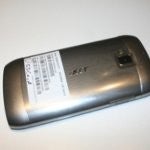 Back in November, we had the opportunity of attending
Acer's press event in New York City
where they unveiled a slew of some upcoming tablets. Specifically, we were able to scope out mock units for both their 4.8" and 7" tablets, but they were simply non-functioning models.
Yet again, the two were spotted covertly during CES as the pair are clearly still in the early stages of development since neither were actually powered on. Still, it goes to show the kind of commitment and emphasis they're placing in the tablet market.
Even though no new additional information was provided about either tablets, we reported that the 7" model will feature a resolution of 1280 x 800 pixels, 1.2GHz Qualcomm dual-core processor, 5-megapixel front & rear facing cameras, Dolby Mobile Technology, Wi-Fi-, 3G, and DLNA support.
Conversely, the 4.8" tablet will feature a resolution of 1024 x 480 pixels, 1GHz Snapdragon processor, 8-megapixel camera with flash, 2-megapixel front facing camera, Flash 10.1 support, Wi-Fi, Bluetooth, and six-axis
motion
sensing.
via
CNET