35.6% of all Internet users expected to be using a tablet by 2014 – iPad to lead the pack
7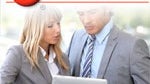 A report was released by eMarketer, this week, which forecasts the growth in tablets through 2014. It estimates that by the end of this year, 33.7 million Americans will use a tablet at least monthly. That is a 158.6% growth over last year. eMarketer attributes this growth to the popularity of the iPad. It says the growth in the coming years will slow down, however, it estimates that by
2014
, there will as many as
90 million tablets users
, which is 35.6% of all Internet users in the U.S.
The report states that these predictions account for multiple users on the same device, rather than strictly unit sales. It predicts that moving forward, tablets will become a single user device, much like smartphones and that eventually the majority of sales will be comprised of users replacing their devices rather than expansion of the market.
eMarketer predicts that the iPad will lose some market share to competitors, but overall will remain as the leader. By
2014, iPad
users are expected to double to
60.8 million
, or 68% of all U.S. tablet users.
On the demographics side, eMarketer believes that market, which currently has more male users, will balance out in coming years. It also estimates that the
18-34
demographic will rise from
31.5% to 34.8%
while the
35 and older
group will drop from
55.5% to 49.3%
by 2014.
source:
eMarketer
via
BGR